ABOUT US
GREETINGS FROM THE PRESIDENT
Here at Global Suzuki, our mission is "Make more impression always".
Established as the regional sales company in western Japan of automotive repair paint "CROMAX" of Axalta Coating Systems, we work to create and develop products that will supply new and strong impression for the automobile repairs industry.
We have received wide support throughout the industry for our four core products: our surface improving device "GAS Glass Primer.", functional coating, design paint, and special cleaning agents.
Now, we have created this website in the hopes that our unique range of products will reach those outside Japan. Our dream is to meet other companies who can help us deliver our message of "Make more impression always" to customers in their area.President
Katsuhisa Suzuki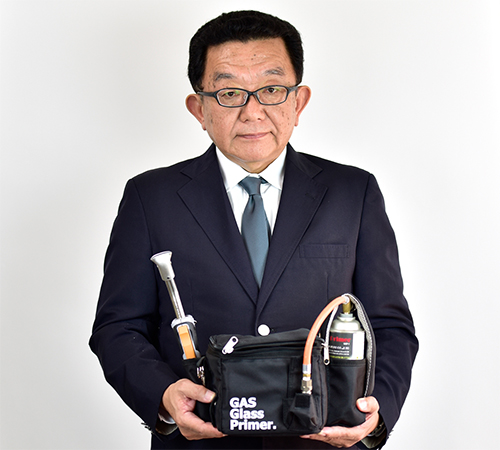 CORPOTATE PHILOSOPHY
All employees will work together as one to embody our corporate philosophy. Moreover, we have established what we aim to do under our corporate philosophy as our Vision, and the actions that employees should take as our Code of Conduct.
Corporate Philosophy:
Make More Impression Always.
Vision
Global Suzuki aims to coexist with people worldwide and stay in business for more than 100 years.
Code of Conduct
・Continue to be impressive within ourselves and in our customers through our products and services.
・Go through with goal without fear of failure or giving up.
・Behave with high morals as a member of "Team Global".

ABOUT OUR STAFF
While our staff is small, each member has diverse abilities and roles: a veteran salesman with more than 30 years of experience in paint sales, a technical instructor who was responsible for automotive paint repair at a former job, and a DTP designer,etc. All of whom work together to achieve our corporate mission.
We use not only our expertise on products but our sincerity and integrity to provide our customers with proper support.